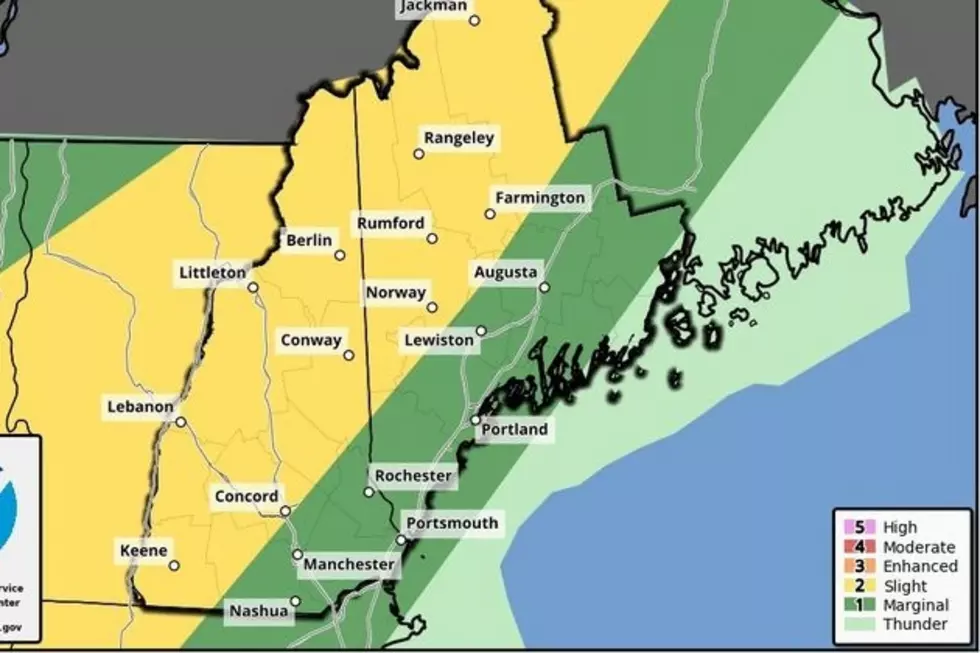 Central Maine at Risk For Damaging Winds, Severe Hail, Potential Tornadoes Today
NOAA, News Center Maine
We were just thinking that the lawns in Central Maine were starting to look a little brown and crunchy. Well, they may not stay that way for very long. It looks like some pretty gnarly storms will be moving across the region late tomorrow afternoon and evening and some will have the potential of even causing property damage.
According to a Facebook post from News Center Maine, it looks like things are gonna get pretty dicey for much of Maine tomorrow, July 12th. News Center reports that an inbound cold front will bring much 'stickier' air into the region, and of course, a much bigger threat for big showers and thunderstorms.
WGME 13 is reporting that many of the storms could range from strong to even severe. They say that hail, gusty winds and and lightening are obvious threats, but that slow-moving downpours could actually pose the biggest risk to Mainers in the affected areas. Slow-moving downpours can often result in 'urban flooding' WGME reports.
News Center Maine shared a graphic from NOAA, the National Oceanic and Atmospheric Association, that shows the different threat levels across Maine for Tuesday.
As you can see, Central Maine is right on the line between dark green and yellow. The dark green line indicates that some storms 'could be capable of damaging winds, severe hail and localized tornado threat'.
The yellow line indicates that there is 'increased confidence that some storms will contain damaging winds, severe hail and/or tornado potential'.
WGME reports that the timeline for the largest severe storm threat will be from about 4 in the afternoon to 9 in the evening on Tuesday.
Wednesday things begin to clear up and get much warmer, though there is still a chance of a passing thunderstorm.
As always, use caution whenever severe weather presents itself and take shelter immediately if conditions deteriorate to a dangerous level.
Do You Remember These 8 Crazy Maine Weather Events?
The Bodwell House Mansion in Hallowell, Maine
You could own one of four condos in this classic mansion. The list price is, as of July 2022, just under $350,000. Get more details and schedule a showing
HERE