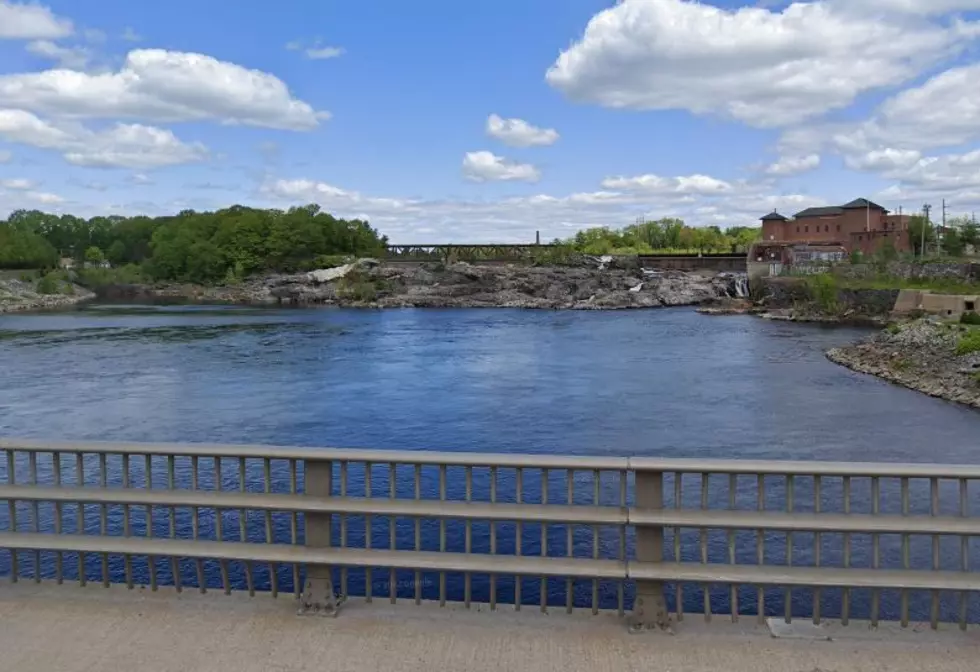 Unknown Man's Body Discovered at Lewiston's Great Falls Over The Weekend
Great Falls, Google Maps
Last weekend, it was reported that officials were called to the area of Great Falls in Lewiston to investigate reports of an apparent body floating in the water in the Androscoggin river.
After arriving, crews were able to remove the body from the water and transport the victim to the Office of The Maine State Medical Examiner. This morning, WGME 13 is reporting that while the State Medical Examiner is awaiting toxicology results before releasing a cause of death, officials have in fact released the deceased's name.
Police say the body was identified as 39-year-old Isar Coleman of Lewiston.
According to WABI TV 5, the body of an unidentified man was pulled from the Androscoggin River near Great Falls over the weekend.
Lewiston Police report that that they received phone calls about a possible body floating in the river on Saturday afternoon. Police responded to the scene and were able to retrieve the body.
Police say they do not know how long the man's body had been in the water and, at last check, they had not yet been able to identify the person.
According to WMTW News 8, area law enforcement agencies are currently looking into missing persons cases in the area to see if they can line up a match to the body.
Additionally, an autopsy is to be performed this week by the Maine State Medical Examiner's Office.
New Maine Laws In 2022
On Monday, August 15th, 2022 nearly two dozen new laws went into effect. Here are some of the highlights
A Look Inside The Colonial Theater In Belfast
For over a century, the iconic Colonial Theater in Belfast has been entertaining locals and visitors alike.
23 Lambert Street, Winthrop
If you have been looking for a real fixer-upper, this could be the perfect home for you! As you can see, she needs some work, but there is great potential in this small family home. It has 4 bedrooms and one bathroom. As of August 2022, the list price was just under $50,000. Get more details
HERE
162 US Route 1, Weston, Maine
The 3,500 square foot building in Weston, Maine is currently priced at $79,500. Get all the details and schedule a showing by reaching out to
Mooers Realty
.
295 Water Street, Augusta, Maine
You'll find The Olde Federal Building at 295 Water Street in Augusta. The building which, for many years, was the town's post office and a courthouse, now fills a variety of uses. There are still some government offices in the building, but there are many commercial businesses, too. Right now, the building is about 50% occupied. It has about 41,000 square feet of usable space and you can learn more from the Colliers
website
.
85 Main Street, Lisbon, ME
You can find this 1920s all brick home at 85 Main Street in Lisbon, Maine. The home encompasses 3600 square feet and has 5 or 6 bedrooms, dining room, sun room, partially finished basement, and more. Get all the details
HERE
.
The Bodwell House Mansion in Hallowell, Maine
You could own one of four condos in this classic mansion. The list price is, as of July 2022, just under $350,000. Get more details and schedule a showing
HERE
2022 Maine 4th of July Fireworks Displays
Here is a list of upcoming Independence Day fireworks displays in Central Maine and beyond. This list will be updated as more information becomes available. If you have a fireworks display you would like added, feel free to email
cooper.fox@townsquaremedia.com
260 Ocean Ave, Kennebunkport, Maine
Coastal Maine is filled with super expensive mansions for rent, but we think we have found the MOST expensive vacation rental in Maine. As of Summer 2022, this vacation rental is more than $30,000 per week! Get all the details
HERE
.
27 Townsend Ave, Boothbay Harbor, Maine
Built in 1700 - NOPE, not a typo - this building in downtown Boothbay Harbor features a retails store and a 4 bedroom apartment. Get more details
HERE