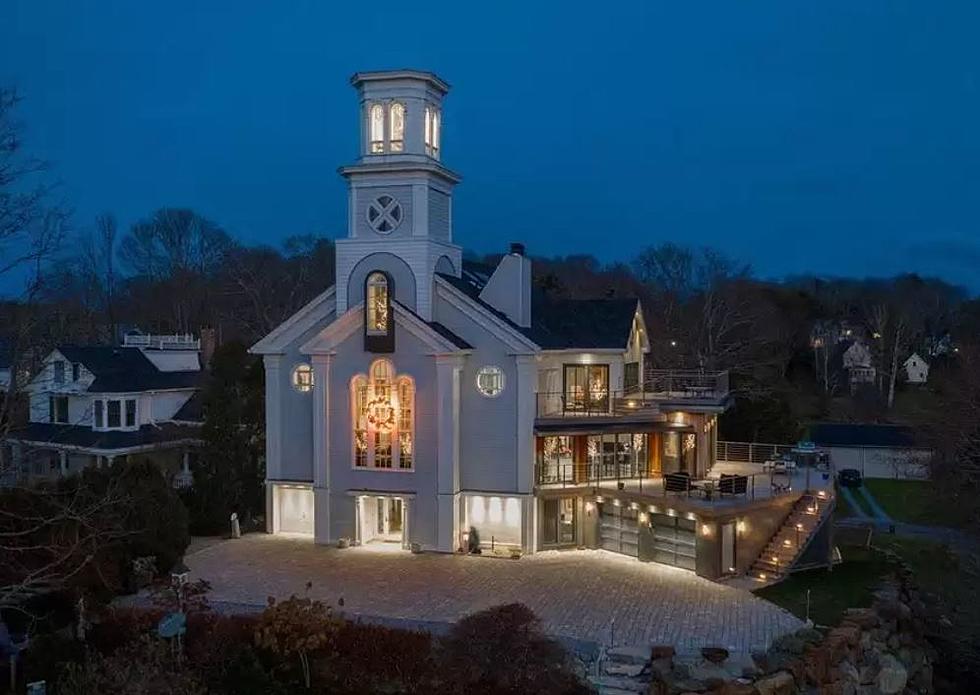 Breathtaking Rockport Mansion Literally Has Cathedral Ceilings
Realtor.com
So, you've recently come into a large chunk of cash and you want to upgrade your living arrangement?  But, you don't just want to move into a new, bigger house.  You want to move into a home that is REALLY going to stand out?
Well, this could be the place for you!
Listed on Realtor.com, there is a 9,500 square foot home (mansion?) that used to be a church.  As a result, it literally has cathedral ceilings.  The home has 6 bedrooms, 6 1/2 bathrooms, a massive kitchen, a living room, a great room, and an office / study.
There is also a decent sized 2 bedroom apartment.  The apartment has two bedrooms, bathroom, kitchen, living room, and a separate entrance.
Positioned on a hill, it offers views of Rockport, the Camden Hills, and Rockport Harbor.  There are two garages, as well.
One of the really cool things about the place is how modern it is on the inside.  It's more like living in a New York City loft than it is living in an 1800s church in Maine.
150 Russell Ave, Rockport
The 9,500 square foot home was originally a church. It has 6 bedrooms, 6 bathrooms, and features stunning views of Rockport Harbor and the Camden Hills. As of August 2021, the price was $2,795,000. Get more details
HERE
The price?  A whopping $2,795,000!  That price is actually down by $80,000.  So, how much is that per month?  All told, about $14,000 per month.
Get more details and check out more pictures at Realtor.com
7 Unbelievable Maine Homes You Probably Can't Afford
But, just because you can't afford them doesn't mean you should not take a look. While most of these are located right on the coast, there is one located in the hills. Just make sure you check out #7 on our list. You won't believe what the place was before someone turned it into a home. These listings and prices are as of August 2021
Do you have our free radio station app yet? If not, it's the perfect way to request a song, talk to the DJs, enter exclusive contests and to stay up to date with everything that's happening in and around Central Maine and the world. When you download it, make sure you turn on the push notifications so that we can send you exclusive content and local breaking news that you need to know about first. Just enter your mobile number below and we'll send a download link right to your mobile device. After that, you can download for free and immediately begin accessing all kinds of exclusive content tailored just for you. Give it a try and stay connected with us!