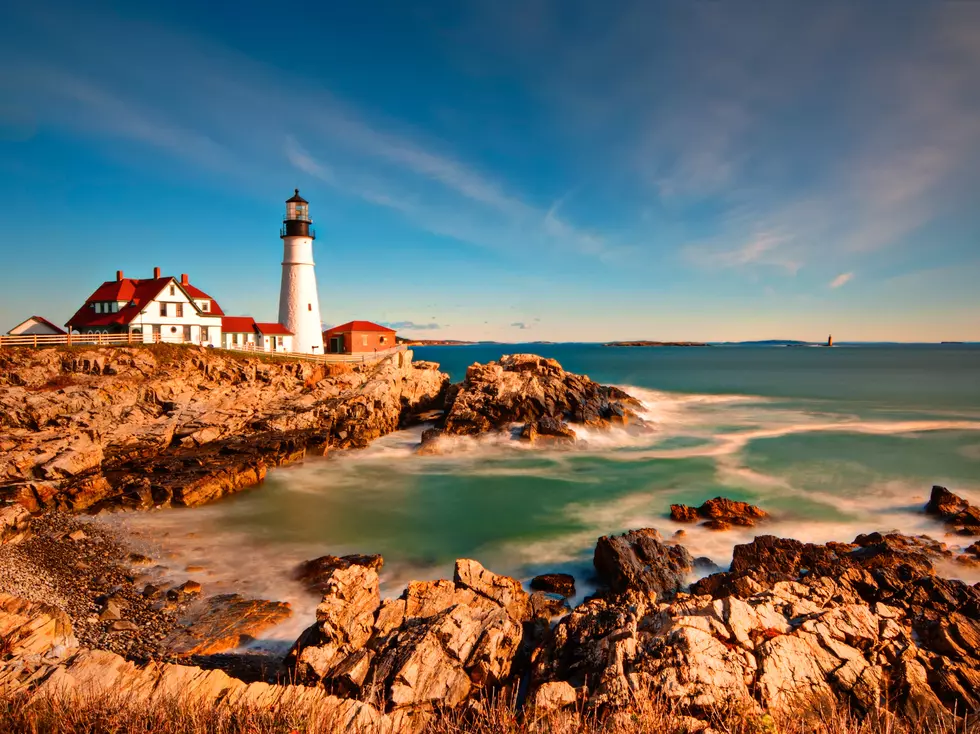 12 Times Maine Led the US & the World by Doing Amazing Things First
Thinkstock
Maine's a pretty amazing place. We're the state that sees the sunrise first every day, we're #1 in America for crazy license plates, and of course... we have the best lobster.
These are things that almost everybody knows. Thanks to the DeLorme Publishing Company, and their handbook "The Maine Geographic Book of Lists and Interesting and Unusual Facts about Maine," we've learned more about our home state than we ever thought we would! (this thing was published in the '80s and we have no idea how accurate it is!)
Here are 12 times that Vacationland led the rest of the United States and the world:
The World's First Transatlantic Television Broadcast happened on July 10, 1962, and started right here in Maine. The telecast was beamed via a Telstar satellite from Maine to the United Kingdom from the Andover Earth Station in Oxford County.
The World's First International Telephone Call was connected from Calais, Maine to St. Stephen, New Brunswick on July 1, 1881. It was a distance of only a few hundred feet, but it was the first international phone call!
America's First Summer Theater opened in the summer of 1901. Any guesses??? ...It was the Lakewood Theater in Madison. Summer theaters would become popular around the '10s and '20s.
America's First Radio Church hit the airwaves at the old WCSH radio station in Portland all the way back in 1926. Pastor Howard O. Hough founded the First Radio Parish Church of America, and they just recently signed off the air in 2018, after 92 years of operations.
The World's First Validated Transatlantic Bird Flight was a long one! In August 1917, the body of a common turn, branded in July 1913 at Eastern Egg Rock in Maine, was discovered along the Niger River in West Africa. That's longer than any flight we'd want to take!
The World's First Campfire Girls chapter was organized on March 17, 1912 by Mrs. Luther H. Gulick at Sebago Lake. Now active in more than 25 states, Campfire serves almost 190,000 children every year.
America's First Black Bishop presided over the Roman Catholic Diocese of Portland, whose jurisdiction covered all of Maine and New Hampshire. In 1875, James Augustine Healy, the son of a Georgia slave, was installed as a Bishop here in Maine.
America's First Public Fish Hatchery was opened in way back in 1872! Maine teamed up with New Hampshire and Massachusetts to open a hatchery in Bucksport to help cultivate Atlantic salmon.
America's First Sardine Cannery opened in Eastport in 1876, owned by Julius Wolff.
America's First Pile Bridge is older than you might think. Major Samuel Sewall designed and built the 270-foot wooden bridge in York in 1761. It sat on 13 groups of pilings that sunk into the bed of the York River.
America's First Forest Fire Lookout Tower was built in the North Maine Woods near Greenville in 1905 by the M. G. Shaw Lumber Company. William Hilton of Bangor was the first fire watchman.
America's First International Dogsled Mail Delivery happened right here in Maine too. On December 20, 1928, Postmaster Alden Pulsifer left the Lewiston Post Office and drove a load of international and US mail from Lewiston to Montreal on a sled pulled by six Alaskan Huskies. He arrived in Montreal 25 days later, on January 14, 1929. That's straight out of Balto or something!
America's First Rail Gun-Equipped Zumwalt-Class Destroyer was built at Bath Iron Works between 2009 and 2013, and has recently entered active service with the US Navy. The advanced weapons and defensive capabilities of America's newest navy destroyers have earned them the nicknames "stealth ships."