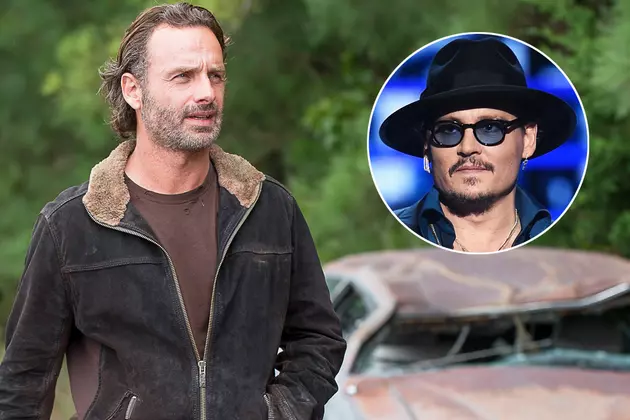 Johnny Depp Made a Cameo in Sunday's 'The Walking Dead,' Seriously
AMC / Kevin Winter, Getty Images
Lest you think that the Black Mass star spent yet another dozen hours in a make-up chair to shamble through AMC's flagship hit, The Walking Dead instead found a more heady use for Depp's unmistakable visage. Part of Sunday's The Walking Dead saw Rick and others doctoring zombie heads to pass for that of Hilltop leader Gregory (Xander Berkeley), the most notable of which was cast from FX guru Greg Nicotero himself, though the producer also revealed a hush-hush Depp cameo to EW:
One of the other heads, I don't know if I'm going to get in trouble if I say this, was Johnny Depp. I think we had sculpted an emaciated version of a dummy head for something and we used Johnny Depp's head as a basis just for a clay sculpt. I can't remember who the third one is, but I'm in good company.
We'll go ahead and guess Depp's is the one on the right:
Certainly less risk of offending anyone than the time Game of Thrones snuck in the former President's decapitated head, but did you catch the A-list appearance? In either case, check out the latest Walking Dead preview below, and stay tuned to find what other famous faces might end up zombie fodder in the near future.
Check Out 100 TV Facts You May Not Know!