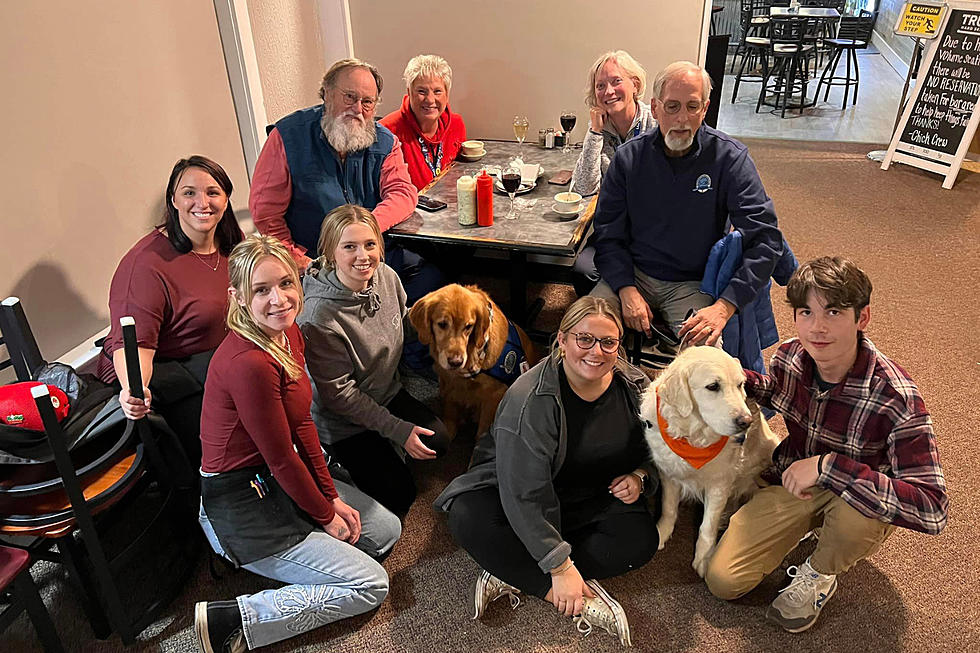 Dogs Journey Over a Thousand Miles to Bring Comfort to Maine
Kayla Gelinas via Facebook
As resilient Mainers, we recently endured an unexpected crisis, facing a challenge we never could have imagined in our wildest dreams. The road to resuming our regularly scheduled programs called our lives has been undeniably tough.
Amongst the outpouring of support within the state, there's a heartwarming story that exceeds and goes beyond state lines.
I came upon this story on Facebook, and I knew instantly that I had to share this act of kindness with all of you.
Two remarkable dogs, named Caleb and Jered, part of the K-9 Ministries Disaster Response and Crisis Response teams, embarked on a long and arduous journey of over a thousand miles to offer a helping paw to our beloved Lewiston, Maine.
A local Mainer, who was at the Chick a Dee in Lewiston, shared a heartwarming post that these two crisis response dogs made the trek all the way from Illinois to Maine, bearing nothing but love and solace, and have kindly invited anyone in need of comfort to reach out.
"Had, by far, the coolest guests at the Chick A Dee tonight. Meet Caleb and Jered. Certified comfort dogs that traveled here from Indiana for the sole purpose of providing comfort to the community. They are here all week and are looking for places to go. If you or someone you know would like a visit from these two handsome gentleman please reach out to the number on their card. They need to be invited. They made a few stops at schools today and some local stores but would love to be invited to more places so they can provide as much comfort and peace as possible. The power of a dog."

Caleb and Jered want to help you, soothe you, and give you some furry love, after all, it's their job.
I took a look at The LCC's mission, and they simply want to share through God's love to those in crisis. No matter what religion you are and what you believe, these beautiful animals are ready to help.
"LCC K-9 Police Ministry Dogs and law enforcement officer handlers are a bridge for compassionate ministry, opening doors for conversation about faith and creating opportunities to share the Mercy, Compassion, Presence and Proclamation of Jesus Christ."
Thousands Attend Powerful Lewiston Vigil
The vigil in Lewiston last night is etched into our memories, a moment of profound healing we should all take a moment to witness.
Gallery Credit: Lizzy Snyder
Learn About the Victims of the Lewiston, Maine Shooting
The 18 people victims of the shooting in Lewiston on October 25 have been identified.
Gallery Credit: Dan Alexander